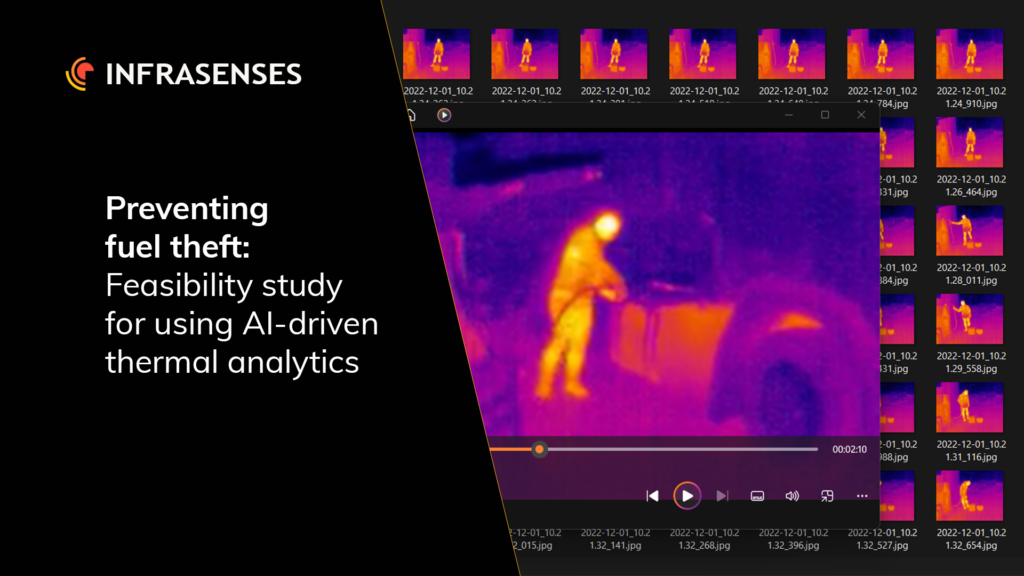 Fuel theft is a significant issue, not just for large fuel station chains but also for companies that provide fuel directly for the use of their fleets. Workers who drive the fleet frequently steal gas by engaging in actions that are difficult for refueling stations to monitor and track. Typically, the drivers fill up a canister or fill up the truck first and then continue to fill up an additional portable container.
CCTV solutions are most often used to monitor stations to help reveal these types of refueling actions. But the main challenge with using them is the need for a person to monitor the screen constantly. This can be time-consuming and difficult. As a result, it may lead to overlooking suspicious activity. 
Moreover, with each additional security feature, new privacy concerns arise along with the need to perform these monitoring operations in-line with official regulations. An especially important one is the expected EU AI act which will bring a lot of limitations with supervision over the security sector under privacy rights. 
However, AI-driven thermal image analytics offers a solution that can detect gas theft and help address the problem while complying with these new regulations and restrictions.
What is thermal imagery and why is it the best solution?
Thermal imagery is the process of converting infrared (IR) radiation (heat) into visible images that depict the spatial distribution of temperature differences in a scene viewed by a thermal camera.
Key facts:
It doesn't require any lighting, it captures the heat radiated from living beings.


With constant AI-analysis it can be used to detect humans and identify different positions with more than 90% accuracy.


With extensive algorithm-training it is also possible to include object detection and movement tracking


Low-resolution thermal imaging cameras do not capture identifiable images of individuals – meaning there is no risk of future privacy issues with the processing of this type of faceless medium
The solution – more than a fuel theft monitoring system
We conducted a feasibility study to determine if our technology could be the right match for this challenge.
With this research we found that thermal imaging can clearly differentiate the person, vehicle, refueling pipe with nozzle, and the container. This means that we can now start to train dedicated algorithms to identify them and their movement. We will then use this model with constant AI-driven thermal image analytics to create a solution to identify and alert if suspicious fueling activity is taking place at refueling sites.
The 5-step process of creating a ready solution
If you have a need to track and analyze human movement and behavior in your operations, without infringing privacy rights, we would be more than happy to assist you in finding the right solution for your specific needs. Our team of experts is dedicated to helping you understand the benefits of using our technology and how it can be integrated into your existing systems.
This is what the cooperation process looks like from consultation to delivering the final product:
Free Consultation: Our team conducts a consultation to understand your specific needs and goals for using our technology. We provide an overview of our capabilities and discuss how our technology can be tailored to meet your unique requirements.
Free Feasibility Test: Based on the information gathered during the consultation, we conduct a free feasibility test to demonstrate and assess the potential benefits of our technology for your specific use case. We provide a report outlining the results of the test and any recommendations for implementation.
Proposal and Pricing: Based on the results of the feasibility test, we create a detailed proposal outlining the scope of the project, the technologies to be used, and the projected costs. We present this proposal and discuss any further questions or concerns you may have.
Contracting: Once the proposal is accepted, we work together to finalize the contract and establish a clear timeline and project plan.
Final Product: The final product is delivered and it is put into use in the most effective way to bring you maximum benefits.
It is important to note that the pricing will depend on the specific use case and the complexity of the solution. We will work closely with you to understand your needs and provide a tailored pricing plan that fits your budget. Additionally, we will provide you with a free consultation and feasibility test to ensure that our solution is the right fit for your company before committing to a pricing plan.
Why InfraSenses AI-driven thermal analytics?
Deep-learning models are enhanced with thermal video and image recognition
Real-time, accurate measurements provide reliable analyses
High throughput allows to track many individuals simultaneously
The system is ideal for monitoring human activity while securing personal identity
User-friendly software that can be customized to any requirement
If you are interested in learning more about how our thermal imaging technology can optimize your business, while also protecting privacy, please don't hesitate to contact us.